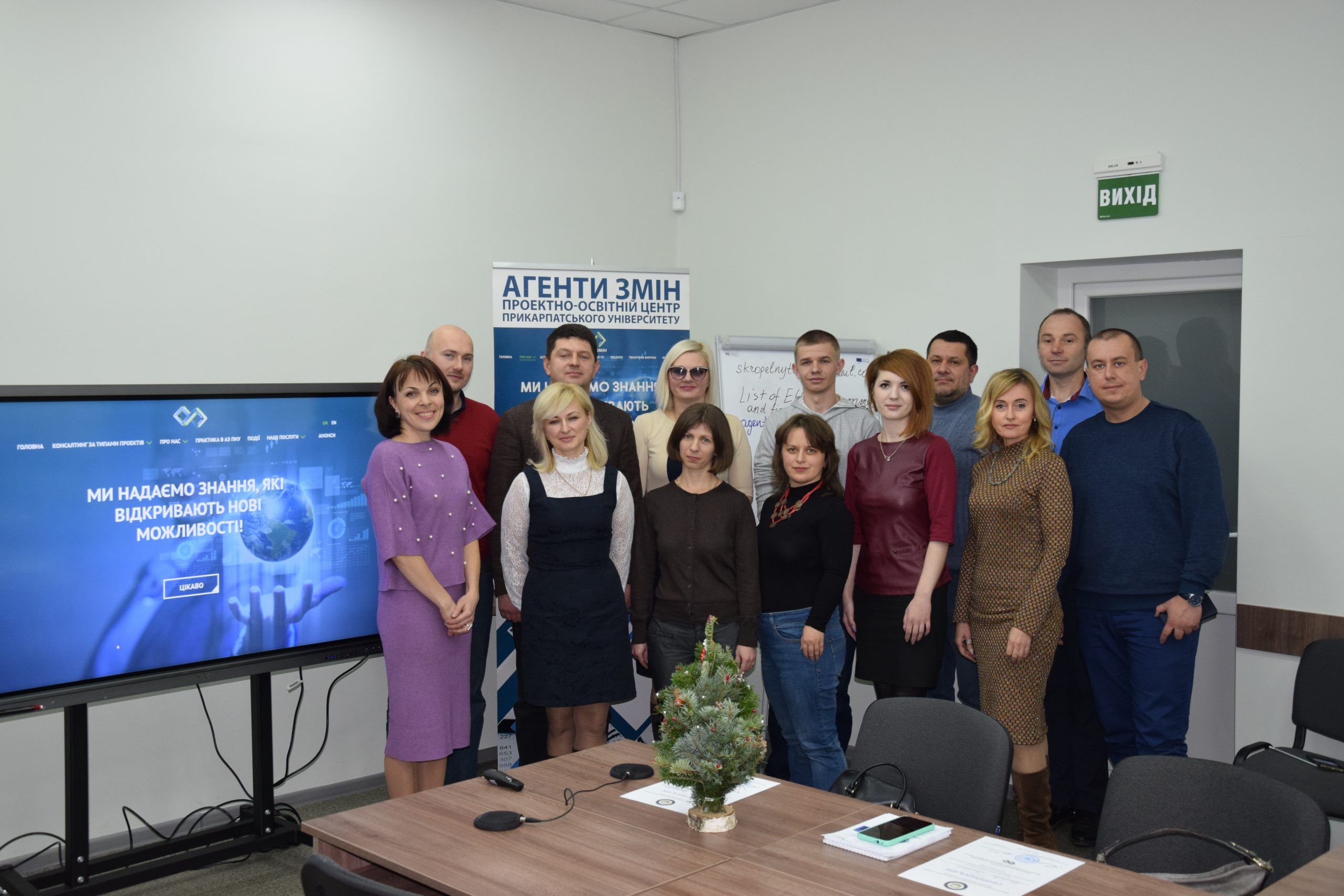 Final training out of the series of training sessions
Begin
12:00, DECEMBER 19, 2019
End
2 PM, DECEMBER 19, 2019
Meeting place
OFFICE OF PROJECT AND EDUCATIONAL CENTRE "AGENTS OF CHANGES"
«AGENTS OF CHANGES» conducted a final training out of the series of training sessions, which was devoted to managing different types of projects. During the whole period, the participants learnt about the characteristics of soft / social projects preparation (conducted by  Myroslava Kulesha-Liubinets and Tetyana Myhovych), hard / investment projects (conducted by Roman Shchur and Ivan Fufalko), individual mobility / partnership projects (conducted by Natalia Lokatyr), innovation / research projects (conducted by Zoriana Krykhovetska, Oksana Kondur and Lyubomyr Nykyruy).
The current training was devoted to the characteristics of international and cross-border projects. It was conducted by Tetiana Solodzhuk and Mykhailo Statkevych. They talked about grant sources of funding, their search and project budgeting.
The participants had an opportunity to combine face-to-face and remote forms of participation in our trainings, it was possible thanks to teleconferences held by means of WeBex Meetings technology through online platform pu.webex.com
At the end of the event the participants of the training program were awarded certificates and given tasks to find new project ideas. Join the team of «AGENTS OF CHANGES» of the Precarpathian National University for the development, through expansion of project activity, of not only its departments, but also our region in the whole!