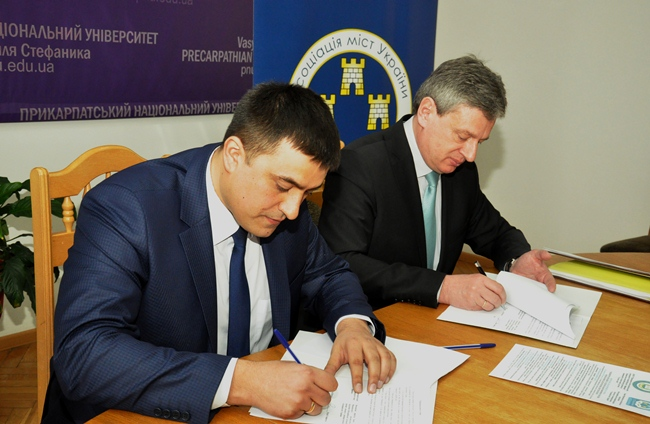 Memorandum with Ivano-Frankivsk Regional Branch of the All-Ukrainian Association of Local Self-Government Bodies «Association of Ukrainian Cities»
Meeting place
OFFICE OF PROJECT AND EDUCATIONAL CENTER «AGENTS OF CHANGES», Vasyl Stefanyk Precarpathian National University
Precarpathian National University will help united territorial communities to implement sectoral reforms. The Agents of Change Project and Education Center created at the university will work today to increase the level of innovation and competitiveness of the region's economy. «Agents of Changes» offer not only recipes for strengthening the institutional capacity of our region, but also provide specific information and educational assistance on investment project management.
Thus, by signing a joint Memorandum with the Ivano-Frankivsk regional branch of the All-Ukrainian Association of Local Governments «Association of Ukrainian Cities», the University, represented by the office of «Agents of Changes» began cooperation in the context of decentralization processes taking place in Ukraine today.
The document was signed by the rector of Precarpathian National University. Vasyl Stefanyk Igor Tsependa and Executive Director of the Ivano-Frankivsk Regional Branch of the Association of Ukrainian Cities Yuriy Stefanchuk. The subject of this agreement is the joint training of specialists to work in local governments, intellectual practical assistance of the university to local communities in solving problems of socio-economic and cultural development.
«Our minimum program is to prepare for each OTG at least one specialist who could conduct grant work. This would allow the community to have significant funds for development every year,» said the rector of the university Igor Tsependa during the briefing.
He is also convinced that teachers and students of the university will be good partners for local governments in implementing strategies for the development of united territorial communities, implementation of ideas, implementation of grants and projects to improve the living conditions of the region's residents.
Yuriy Stefanchuk, in turn, stressed that the regional branch of the AUC is in great need of such cooperation with the Precarpathian National University. «In working with the united territorial communities, we feel that they need help in implementing the development strategy they have outlined.
OTGs are eager to receive grants, but unfortunately do not have the experience to do so and then implement these grants. We are jointly interested in training human resources to work in local governments, united territorial communities. This memorandum envisages, in particular, internships and internships, visits by students to those communities that have interesting projects today,» Yuriy Stefanchuk emphasized.
Later, during the thematic meeting «Decentralization and Sector Reforms in Ukraine: Expectations, Achievements, Prospects», the director, teachers and students were told in detail about the goals and tasks of «Agents of Changes» by the director of the new university project-educational center. Associate Professor of Finance, Faculty of Economics Svitlana Kropelnytska.
«Training project management specialists is one of our main tasks,» she explained during the presentation. «The project is designed for three years and will be implemented with the support of sector budget funds of the European Union.»